Lahti L-35 is a pistol designed by Finnish Aimo Lahti that was produced between 1935 and 1952. About 9000 pistols were made in four production series.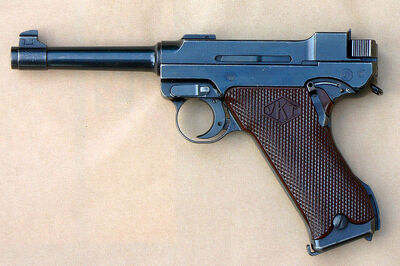 The weapon had a bolt accelerator to improve reliability in cold conditions or when fouled. This kind of system was rare for pistols. It also resembled the German Luger P08 pistol.
The Finnish army used the L-35 in the Winter War and the Continuation War, and it was the official service pistol until the 1980s when it was replaced by the FN HP-DA pistol.
Pistol m/40
Edit
A simplified and somewhat less reliable version of the L-35 was built in Sweden under license and was adopted for service by the Swedish Armed Forces in 1940. The official Swedish military designation for this pistol was Pistol m/40 but it is also known as the Husqvarna m/40 after the manufacturer, Husqvarna who produced almost 100 000 of them between 1940 and 1946.
Due to poor quality steel used in manufacturing and the use of SMG 9 mm cartridge adopted in the 1960s (m/39B), the bolts of Pistol m/40s started to crack in the 1980s. As a temporary replacement the retired FN Model 1903 (Pistol m/07) pistols were brought back into service until the switch to the new Glock pistols was complete. The switch was done during the 1990s and then Glock 17 (Pistol 88) was adopted by the Swedish Army, and Glock 19 (Pistol 88B) by the Swedish Air Force.
Specifications
Edit
Type Semi-automatic pistol
Place of origin Finland
Used by Finland, Sweden
Wars World War II, Winter War, Continuation War
Designer Aimo Lahti
Designed 1935
Number built 9000 L-35 + 100 000 Pistol m/40
Weight 1.2 kg
Length 245 mm
Barrel length 107 mm
Cartridge 9x19mm Parabellum
Muzzle velocity 1,100 ft/s (335.3 m/s)
Feed system 8-round detachable box magazine